Wellness Visits, Vaccinations and Deworming

At Waggin' Wheelz Veterinary Services we believe in the importance of annual wellness visits. Our pets age much faster than we do so a lot can change in a year! By taking steps to prevent illness and disease, using quality diet and nutrition as well as providing a prompt diagnosis when required, we can help our pets live their longest and healthiest lives!

After Hour Emergency Services

At Waggin' Wheelz Veterinary Services we understand that emergencies can happen at any time. To be there in your time of need we offer after hours emergency care.
Make sure to follow the Waggin' Wheelz Facebook page for updates to Dr. Kaylee's after hours emergency schedule.
In the event of an after hours emergency, please call the clinic at (306) 554-9663.
Surgical Services

We offer complete surgical services, ranging from elective spays and neuters to soft tissue surgeries to dental procedures. Our surgery suite is well equipped with up to date anesthetic machines and monitoring devices to make the process as safe as possible for your pet.
In House Diagnostic Laboratory
Sometimes when pets get sick, diagnostic lab work is needed to help us determine the best course of treatment to get them on the road to recovery. We are able to complete blood work, analyze urine and fecal samples, and much more using our in house lab. This means quick results when we need them most!
Digital X-ray Technology
Our digital x-ray unit provides quick diagnostic images that are automatically uploaded digitally to a screen where pet owners can view them and have them explained. This is another valuable tool that we can use to help treat our patients faster and more effectively.
Flea, Tick and Parasite Prevention
Whether it's for flea, tick, heartworm or any other internal or external parasite we've got you covered! We will make recommendations for your cat or dog based on their unique lifestyle and risk factors to keep your pet and your family safe.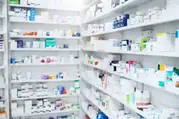 Pharmacy
Our fully stocked pharmacy provides us with the medication needed to treat your pets properly.
Nutrition and Diet

We have numerous high quality diets available in clinic. No more trips to the city needed!
Don't forget to take advantage of FREE, next day shipping through our online store.
Not comfortable with online shopping? Simply place an order directly with us at the clinic by calling (306) 554-9663 during business hours.
Unsure of what to order? Stop by the clinic to discuss options with Jen, RVT, who is passionate about diet and nutrition!
Please note: All orders must be made before 3 pm. No orders will be placed on weekends, statutory holidays or during clinic closures.
Microchip Identification
This is a way to permanently identify your pet and ensure that they are able to find their way home in the event that they go missing. We are able to quickly and easily implant a small chip under your pet's skin. We also have the tool needed to check animals for the presence of a microchip. This means that if we are presented with a lost pet, we can help get them home safely.
If you ever need to update your information (address, phone number, email etc.) you can simply visit the EIDAP - Injectable Microchip Identification website!
Hospitalization
While all pets would rather be cozy at home with their families, sometimes it's best for sick patients to stay in the hospital with us while they recover. We offer comfortable accommodations for your pet and all the medical care required if and when it is needed.
House Calls
In addition to our full-service clinic, we also offer the convenience of house calls. We are able to offer services such as annual wellness exams, vaccinations, or euthanasia in the comfort and privacy of your own home. We encourage clients to talk to their friends and neighbours about creating 'house call groups' to save on mileage!
Euthanasia, Cremation & Keepsakes
While saying good bye to a beloved pet is never easy, we are here to help you through this difficult process. Whether it is in the clinic or in the comfort of your own home, we strive to offer a compassionate and dignified final good bye for your loved one. We are also able to handle any after care that is required.
Waggin' Wheelz Veterinary Services works in proud partnership with Prairie Pet Cremation Services to be able to provide cremation services. Prairie Pet also provides a wide selection of urns and other keepsakes. We also work with Pear Tree Impressions to create beautiful clay paw prints that can be customized to suit your pet.
There are currently urns on display at the clinic by local craftspeople, Marilyn Syrota of Birch Creek Pottery and Mitch Royle with his handcrafted wooden urns.
Cloud Based Software
Waggin' Wheelz Veterinary Services is a fully digital clinic. This means all of your pet's records are kept up to date using cloud based software that is accessible anytime, anywhere. Any portion of your pet's record can be shared with you with only a few simple clicks
Dental Cleaning and Digital Dental X-ray
We are now happy to offer digital dental x-ray services along with our full body x-ray!